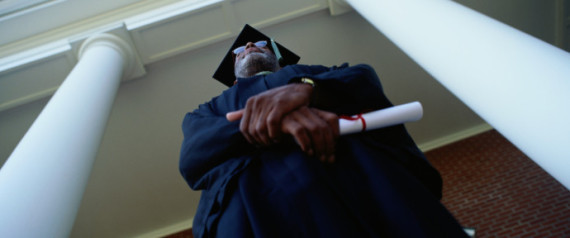 By JasmineHughes
Selected for their potential to succeed or for their potential to become indebted? Many are now questioning the targeted recruiting practices of for-profit colleges.
At a June Senate hearing on high student debt levels at for-profit colleges, civil rights advocate Wade Henderson pointedly criticized what he called the "cruel," "unjust" and "immoral" attempts by some for-profit colleges to actively recruit low-income minority students with promises of bettering their lives through college education.
"The deceptive practices which many of these institutions have employed, the emphasis on recruiting among the most vulnerable and emotionally ill-prepared … this is nothing less than the hijacking of the American dream," said Henderson, the president and chief executive of the Leadership Conference on Civil and Human Rights.
A month later, at a House Education hearing, the chief executive of the National Black Chamber of Commerce had a different message for lawmakers about recruitment of low-income minorities.
"Proprietary colleges are the only broad group of institutions of higher learning which are stepping up to the plate and taking on the daunting task of educating 'high risk' students," said Harry Alford, who has vigorously opposed government regulations at for-profit colleges. "So the problem at hand is that minority students are already at a great disadvantage, and now the Department of Education has made it worse by shutting down a major path to education and jobs."
The for-profit college sector has tripled in size over the past decade, as has scrutiny of their poor student outcomes. Also changing is the rate of enrollment for low-income and minority students. Black and Hispanic students make up 28 percent of undergraduate students nationwide, but they represent nearly half of all students in the for-profit college sector, which includes large online schools such as the University of Phoenix, Kaplan University and smaller, privately owned trade schools.
The demographic makeup of such colleges has been the focal point of a year-long debate over how to protect students from low-quality schools that don't provide the promised training for careers, and how to protect taxpayers from growing federal student loan defaults.
After a tough lobbying battle waged by the for-profit college industry, in June, the Obama administration released a set of regulations that seek to evaluate the ability of for-profit colleges to prepare their students for "gainful employment" after leaving school. The agreed upon regulations give schools a three-year grace period, requiring programs to fail student debt tests three out of four years before they can be cut off from lucrative federal dollars.
Those in support of greater protections for students argue that the reason why minority and low-income students are over-represented in the for-profit college sector is because they have been strategically targeted by well-trained sales forces and marketing campaigns. Advertisements often cater to black or Hispanic consumers, featuring a testimonial or image of a minority student achieving his or her dream of employment.
The rationale is that lower-income borrowers are eligible for the most in federal student loan dollars and Pell Grants, which represent the vast majority of revenues for the for-profit sector.
"The individual gets lost in this; it's all about the dollars," said Arnold Mitchem, president of the Council for Opportunity in Education, which represents low-income students. "The students in this debate and discussion are ciphers. You might as well be talking about bushels of corn, or wheat, or soybeans. They're just commodities. That's what it amounts to."
Although minority students are enrolled at much higher rates in the for-profit college sector, the number of the black and Hispanic students seeking a bachelor's degree that make it to graduation are significantly lower than those of minority students who attended public universities, hovering at 16 percent for black students and 28 percent for Hispanic students.
The report noted, "These enrollments represent substantial movements that portend the future of higher education, but in two distinct directions."
Many critics have argued that the trend of high enrollment numbers, followed by low graduation rates, points to an inherent problem: Students are courted aggressively at enrollment, yet not provided with the necessary tools to succeed in the end.
"This can't just be about access," said Michael Lomax, president and chief executive of the United Negro College Fund, which supported stricter oversight of for-profit schools. He pointed out that while regulations are welcome, the goal should not be driving the for-profit sector out of business.
"I think that the gainful employment (regulations) were an appropriate way to begin to regulate an industry that, at the end of the day, we don't want to destroy," Lomax added. "Because we need it to produce more graduates, but we need it to meet certain kinds of ethical and business standards.
"They cannot be the educational equivalent to payday lenders."
About jasminesnroses
Hello World. I'm a recent graduate of Rutgers University, trying to make my mark. I have many interests, curiosities and ideas. All of which can be found here. So stick around =)